Ross Park Aquatic Complex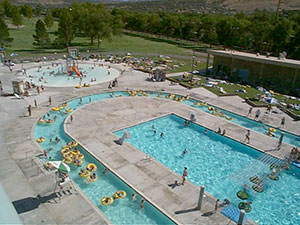 Ross Park Aquatic Complex
2901 South 2nd Avenue
Pocatello, Idaho 83204
Phone:
208-234-0472
Cool off from your real estate search at the Ross Park Aquatic Complex! This family-friendly water park boasts a variety of water pools on site including the following:
Zero-depth pool—a children's pool with a water-play element in the center. Kids can go down a slide, shut a water spout on and off, and venture through tunnels.
Lazy river—a donut-shaped pool with a gentle current. Swimmers can sunbathe on a float tube while gently drifting around the river.
Activity pool—a pool designated for water sports. High-action patrons can pick up a game of water basketball or teeter across a row of lily pads while dangling from a cargo net.
Water slide—a slippery hydrotube ride. Adventurers climb an encased set of stairs, and then take a thrilling ride to the bottom through a twisting hydrotube.
Swimming pool—a 25-yard by 25-meter traditional pool. Swimming lanes are coupled with open swim areas—great for exercise and water fun.
The real estate around the aquatic complex is home to several additional attractions including Ross Park (rock climbing, nature trails, and picnics), Zoo Idaho, Fort Hall Replica, playground equipment, a sand volleyball court, a horseshoe pit, and a skateboard park.