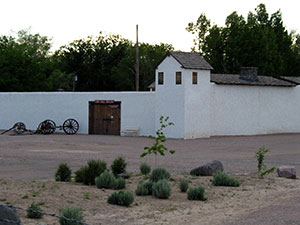 Fort Hall Replica
3002 Alvord Loop
Upper Level Ross Park
Pocatello, Idaho 83201
Phone:
208-234-1795
The Fort Hall Replica tells the exciting story of America's expansion to the West. Retelling the historic accounts of Oregon Trail travelers, panhandlers, trappers, Native Americans, pioneers, and more, the replica is like a portal to the past. You'll appreciate the fine collection of 1800s structures and artifacts on display like the Native American teepee.
The original wooden fort, completed in 1834, was built by Bostonian Nathaniel Wyeth as a trading post for fur traders and Native Americans. Later, it became a major supply stop for travelers on the Oregon Trail and California Trail in the 1840s and 50s. By 1863, the fort had completely given way to decay. The ruins remain on the original site, a piece of real estate adjacent to the Snake River on the Fort Hall Reservation. In the 1960s, 100 years later, the replica was erected in Pocatello, about 10 miles south of the reservation.
Adjacent to the replica is Zoo Idaho, Ross Park Aquatic Complex, and Bannock County Historical Museum, which houses railroad memorabilia, Shoshone-Bannock Native American exhibits, and pioneer artifacts.