L.E. & Thelma E. Stephens Performing Arts Center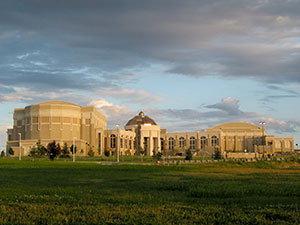 L.E. & Thelma E. Stephens Performing Arts Center
1002 Sam Nixon Dr
Pocatello, Idaho 83209
Phone:
208-282-3595
Perched atop a knoll on the Idaho State University campus, the imposing 110,000-square-foot L.E. & Thelma E. Stephens Performing Arts Center is the architectural crown jewel of Pocatello. Completed in 2005, the landmark edifice occupies highly visible real estate next to I-15. In the center is a large rotunda lobby, which hosts special events and exhibits. In the wings are the Center's three performance venues:
Joseph C. and Cheryl H. Jensen Grand Concert Hall—a 1,126-seat acoustically perfect concert hall.
Bistline Family Thrust Theater—a 450-seat thrust theater designed for dramatic performances.
James E. and Beverly Rogers Black Box Theater—a 125- to 250-seat experimental black-box theater.
Home of Theatre ISU (ISU's theatre and dance department), the Center also houses classrooms, offices, a costume-design studio, a scene-construction shop, green rooms, dressing rooms, a catering kitchen, and a recording studio. Whether you are in the classroom or in the audience, Pocatello's world-class Performing Arts Center will dazzle you.